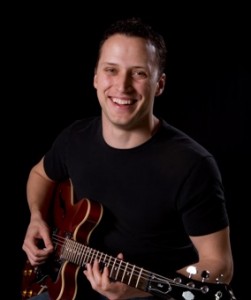 Thank you so much for visiting! My name is Patrick MacFarlane, but many of my friends call me Patmac. I'm just a normal guy who enjoys playing the guitar and helping people like you learn it!  If you read on, you'll learn about my family, how I got into the guitar, and why I started Guitar Lesson World.  I'll also give you one of my favorite pieces of guitar advice.
Family
I have a wife, Alaina, and two children.  After several years of marriage, she still likes that I play the guitar, but I don't think she likes when I turn it to 11.
When I knew I wanted to Play the Guitar
It was the late 80's or early 90's.  My friend John rented a most excellent copy of Bill & Ted's Excellent Adventure.  We watched it over and over and really wanted a guitar.  We tried to make a guitar out of plywood and fishing line.  It sounded like a floppy rubber band, which wasn't exactly a chick-magnet.  After joining the school band and toying with the trumpet and even the tuba, my parents gave in and bought me a guitar for my 16th birthday (an Ibanez electric guitar with a Peavey practice amp).
Guitar Lesson World Origins
Guitar Lesson World was a fortunate accident.  When I was 16 years old, I was teaching myself to both write webpages and play the guitar, so I decided to put the two together (because I'm a huge nerd). I learned that I enjoyed helping others learn the guitar.  It also helped me with my playing.  Over time, the site naturally became very highly ranked in all the search engines and was reviewed by Rolling Stone and Acoustic Guitar magazines.  I actually drove in icy conditions to get a copy of Rolling Stone when I heard.  It was such an honor because there are so many other great sites out there.
My Credentials
I've been playing guitar for 20 years.  I taught myself at first then I took some private lessons.  I took three online guitar classes from the Berklee College of Music and earned the Guitar Skills certificate.  After that, I received a scholarship from them and took two more classes.  I've also attended the National Guitar Workshop, which was a fun experience.  I play for my own enjoyment and to teach the guitar, which is what I enjoy the most.
Guitar Advice on Learning Songs
I want to give you a quick piece of advice because I think it will help you.  When I was first learning the guitar, I would learn a lick or riff, but I wouldn't learn the whole song.  This was a huge mistake because I didn't build a repertoire of songs that I could play at any time.  To avoid this problem, I recommend that you always learn to play the entire song.  If you're like me, you tried to play some hard solos, which were frustrating.  If you learn to play the entire song (minus the hard solos), you can come back to it later.  Either way, you can impress your friends and family by completing a song.
My Gear
I honestly don't have a lot of fancy or expensive gear compared to other people in the guitar business, but I am hoping to get a Gibson Les Paul one of these days so I can rock out to Led Zeppelin non-stop for a few days!
My Guitars
Martin D16 RGTE – I love this acoustic.  I played about 30 acoustics before deciding on this one.  It projects louder than most and still has great tone despite the cutaway and electronics.
Peavey Wolfgang Special – This was my second guitar and the red flame top spoke to me.  It was the only time I split a purchase on two credit cards in college (which I don't recommend).
Fender Lone Star Stratocaster – I can try to channel my inner SRV with this guy.
Epiphone SG, Worn G-400 – AC/DC or Cream?
Epiphone Dot – I love playing Johnny B Goode, BB King, or even some Jazz with this one.
Washburn WG-587 (7-string) – I hardly ever pull this guitar out, but it lets me play some Steve Vai.
My Amps and Effects
Peavey Vypyr VIP 2 – This 40 watt amp has a ton of modeling effects built-in.  This may be the most versatile amplifier I have ever seen.  It is my new go-to-amplifier.
Marhsall JTM312 – When I sold my practice amp, I bought this 1×12 tube combo amp gives me the perfect Marhsall sound.  I've had it since I was a teenager so it pre-dates the great modeling amplifiers.  I love it.
Guitar Rig 4 with Rig Kontrol Interface – All the effects and amp sims I could want on my computer.  I use a pair of studio monitors (or headphones) to play through it.
Vox Wah-Wah
iRig – This little audio interface lets me use my iPad as a modeling amplifier.  I use this if I'm traveling with a guitar.  I use the Amplitube app at the moment.
Roland Micro-Cube – This little amp runs on batteries or a plug.  Before iRig, this was my travel amp.
Thank YOU!
Thank you for learning about me.   I hope you enjoyed this page.  As always, I am here to help.  Feel free to contact me and I will do my best to help you