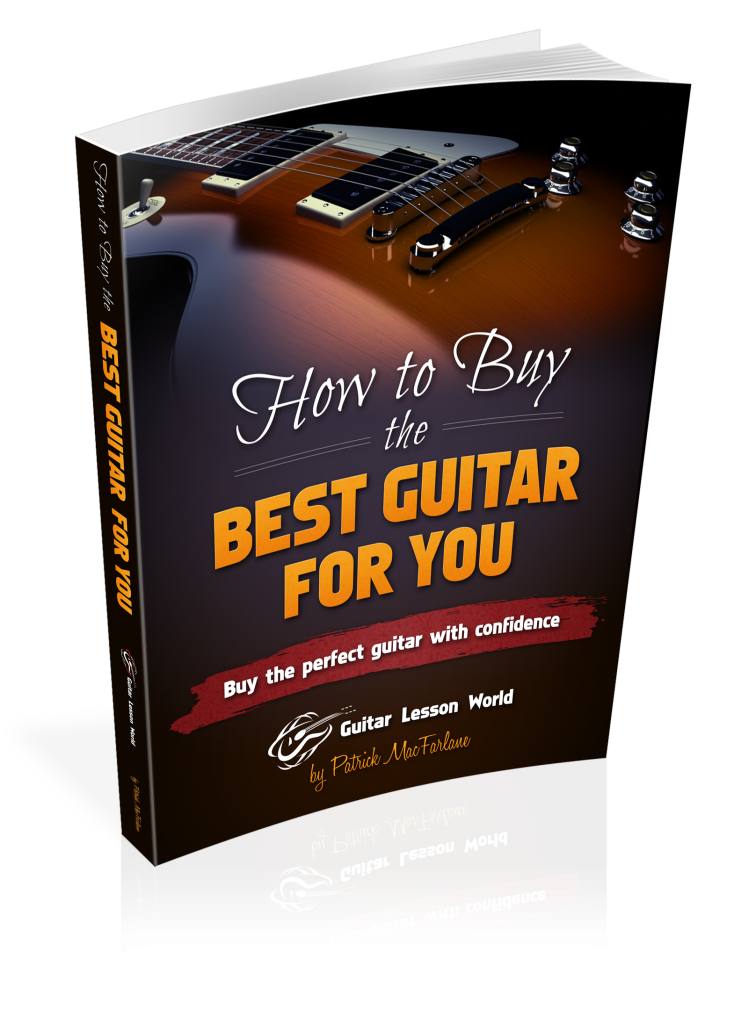 Learn how to avoid bad beginner guitars and buy with confidence at any price point! Did you know there are over 13,000 guitars for sale at Guitar Center?  Beginners often settle for a cheap guitar because they don't know what they want.  This book will help you maximize your guitar value by helping you buy a guitar that will grow with your ability!
Your Questions Answered
This book will answer the questions you need to have answered.
Should I buy an acoustic or an electric guitar?
How much should I spend?
How do I save money on my guitar?
How do I know I have a good guitar?
What should I do if my hands are too small?
How can I minimize finger soreness?
Are value packs a good idea?
Where should I buy my guitar?
And more!
Narrow Your Search Quickly!
How to Buy the Best Guitar for You will explain the essential features for any guitar and provide checklists to make sure you don't forget anything!  You'll learn the features that give you the greatest value.  I'll help you choose between an acoustic and an electric.  Did you know that most beginner acoustic guitars come with laminate tops, similar to plywood?  This ruins the tone, but you can get a similarly priced guitar without one if you know where to look.
My First Guitar Horror Story
I borrowed my first guitar from a friend when I was 16 years old.  Since it was free, I thought I'd try a guitar before I bought one.  This was a huge mistake.  The guitar wouldn't stay in tune, left my fingers in pain (more than normal finger soreness), and I couldn't even play my favorite songs on it.  I thought all guitars were like that one, but I was wrong.  This book will provide the advice to avoid these problems and other common problems.
Learn How To Test a Guitar for Problems
When I was buying my first guitar, I was afraid to play a it in the store.  I wasn't very good, and I didn't know how to differentiate them.  I bought one with a buzzing string that didn't go away until I replaced the nut on it.  I didn't know how to test a guitar.  This book provides a step-by-step procedure for anyone (even non-guitarists) to test a guitar.
Find the Best Price
Did you know that many cost upgrades are cosmetic?   I'll teach you about how guitars are priced in tiers so you can find a guitar that will last!  You'll learn about pricing tiers and the features that you should expect in each so you can identify the guitar with the best value!
Learn Where to Shop
Every guitar store has its pros and cons.  I'll tell you the pros and cons of buying online vs at a brick and mortar store.  I'll also tell you the pros and cons of buying used guitars based on my personal experience.  Did you know that most online guitar stores offer free shipping and free returns?  One has a special return policy that makes it an appealing option.
My Recommendations
I want to make the buying process easy.  Throughout the book, you will get my advice and recommendations on various features, including how much I recommend spending.  Did you know that manufacturers some acoustics are better for fingerstyle than for strumming or that manufacturers make 3/4 scale guitars? How to Buy the Best Guitar for You will give you recommendations on these questions and many more so you can buy with confidence.
Get Personalized Advice
If you're still not convinced, I will personally answer your guitar buying questions. You can even ask me your questions before you buy the book.  Just use my contact page.  I want you to find the perfect guitar and buy with confidence!
30-Day Money Back Guarantee
If you're not 100% satisfied, tell me why and I'll give you your money back!
Limited Time Offer ($2.99 $14.99) !
No, that is not a typo, use the code buyitright to help you find the perfect guitar for you!