Guitar Lesson World books are written to help you not only learn but also apply the concepts to your practice routine. The #1 way to get better is to practice. There is no substitute, so my books are geared towards providing information and application that goes beyond the free lessons on this webpage.
The Books
The Secrets of Learning the Fretboard ($19.99) – Provides 159 exercises that help you gain instant recall of all 138 notes. You can add an exercise to your daily routine and you'd be amazed at how much better you know the fretboard in 1, 3, and 6 months. On top of that, you'll learn useful music theory. It's a small time investment for a large return. Click here to learn how it can unlock your next level with this book.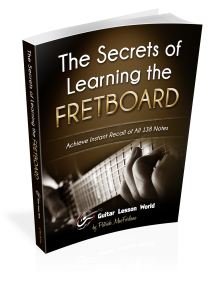 Buy PDF – The Secrets of Learning the Fretboard
Guitar Lesson World The Book ($19.99) covers a broad range of topics from absolute beginner basics to diatonic harmony and provides a learning section for each topic to help your retain that knowledge in your playing. I still use this book as a reference because there is so much information in one place.
Buy PDF – Guitar Lesson World The Book
How to Buy the Best Guitar for You was written to help you avoid buying the wrong guitar for you.  You can learn why I usually recommend an electric guitar and how I help people choose. I usually provide a promotional code so you can buy it for as little as $2.99. I just want you to get the right guitar so you can have fun and come back for more lessons. It's a small price to pay to avoid a costly mistake such as buying a guitar that hurts your fingers more than it should.
Money Back Guarantee
All my books come with a money-back guarantee so there is no risk to buying. If you're like me, you won't know how much the book will help until you buy it, so I'll answer your questions personally so you can use my 25 years of experience to obtain your guitar goals!
Thank You for Your Support
Most of all, I want to sincerely thank you for supporting Guitar Lesson World as a reader. Book sales are how I keep the site running, but it all starts with the reader engaging a great lesson. If you're not ready to buy a book right now, you can still support Guitar Lesson World by emailing me about what would make the site better. You can also follow/like us at facebook.com/guitarlessonworld.
Thanks again and keep strumming!