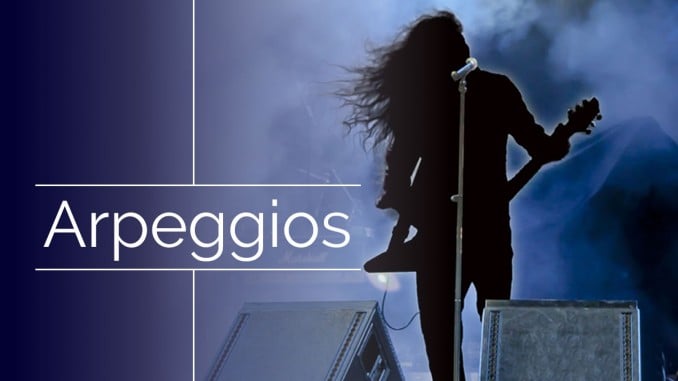 An arpeggio is a succession of chord tones. When you play a solo, you try to focus on the chord tones of the progression that you are playing over. Sometimes you might stray away from the chord tones, but chord tones act as the base on which solos are derived. As guitarists we like to look at scale patterns as you have seen in previous lessons. In this lesson, I will provide you how to form arpeggio patterns and how to use them to locate chords. I will also show you some examples of arpeggio patterns.
To form arpeggio patterns, you must first pick a chord that you want to write in an arpeggio pattern. Write out all the notes in that chord. For example, for C major 7 your notes would be C-E-G-B. Now all you have to do is take a top view of a fretboard and mark down where you would fret each of these notes. Make sure that you mark the root note so you can distinguish it from the other notes. As you can tell in the picture below, I gave a different color to each note. This will be used for finding chords.
Figure 1 – C Major 7 Arpeggio
Red Dots = Root Note,
Blue Dots = 3rd,
Yellow Dots = 5th,
Green = 7th


Arpeggio patterns follow the same rules as scale patterns:
They are moveable
They repeat at the 12th fret
To locate a C major 7 chord using the pattern above, all you have to do is take one note from each color and play it by fretting those notes. You may use more than one of each color as long as you use every color.
If you remember that C major is just the C major 7 chord without its 7th degree (the B note), you know that you can form a C major chord from this pattern by finding combinations of the root, 3rd, and 5th, notes (which are the C, E, and G notes). You can also form a C major arpeggio pattern by just eliminating all the 7th note dots.
Figure 2 – C Major Arpeggio

The arpeggio patterns that are really useful are the 7th chord patterns because you can just eliminate the 7th chord to find the triad associated with the 7th chord you are using as we did above. For example a C minor 7 chord is a C minor chord when the 7th is taken away. Shown below are 7th chord patterns for your own use. These patterns can be moved like all the scale patterns that are shown in earlier lessons.
Figure 3 – Major 7 Arpeggio

Figure 4 – Minor 7 Arpeggio

Figure 5 – Dominant 7 Arpeggio