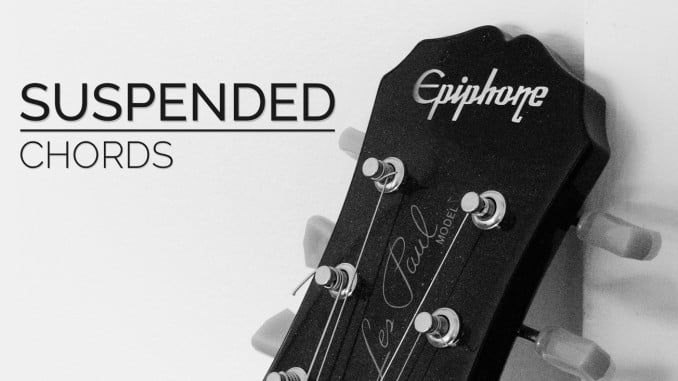 The neat thing about suspended 4 chords is that they are made up of this formula: I-IV-V. Now you're asking what this means. I'll tell you by showing you the degrees for the major scale (below) and the minor scale (below). Notice how the I, IV, and V degrees all have the same notes.
Now, let's look at what we have learned in earlier lessons… The C major chord has the notes C, E, and G. The C minor chord has the notes C, Eb, and G. Notice that the difference is in the third degree (2nd note shown). Also notice that Eb is a half step below E that means that all you have to do to change a major chord to a minor chord is to lower the third degree a half step. This third degree tells whether a chord is major or minor. Now, you're wondering… How does this apply to suspended 4 chords? Here's how. suspended 4 chords are chords that have the fourth degree instead of the third degree. Therefore nothing determines whether the chord is major or minor. IT'S NEITHER.
Now here is what you can do with an suspended 4 chord. You can use it as a common chord for use with major and minor scales. You can also use it to make a smooth transition from a major scale to a minor scale. But all in all, it's just an extremely versatile and nice sounding chord.
Note: Minor chords can be formed by taking the I-III-V degree notes from the minor scale (aeolian mode).
The C Major Scale
| | | | | | | |
| --- | --- | --- | --- | --- | --- | --- |
| I | II | III | IV | V | VI | VII |
| C | D | E | F | G | A | B |
The C Minor Scale (Eb Aeolian Mode)
| | | | | | | |
| --- | --- | --- | --- | --- | --- | --- |
| I | II | III | IV | V | VI | VII |
| C | D | Eb | F | G | Ab | Bb |
Subscribe for Free Content, Tips, and More!
3 Reasons to Subscribe to the GLW Newsletter:
Free Stuff! You'll get free content that is exclusive to my newsletter subscribers!
Content tailored to you. Over time, I'll get to learn more about you and deliver content that motivates you to learn, play and be inspired!
No spam. Just real content that's meant to make a difference in your playing
Enter your name and email, and you're on your way!
Hello again! You're already subscribed to the GLW newsletter. Thank you for being a part of the GLW community. If you have a question, just send an email using my contact page. I'd be happy to help!