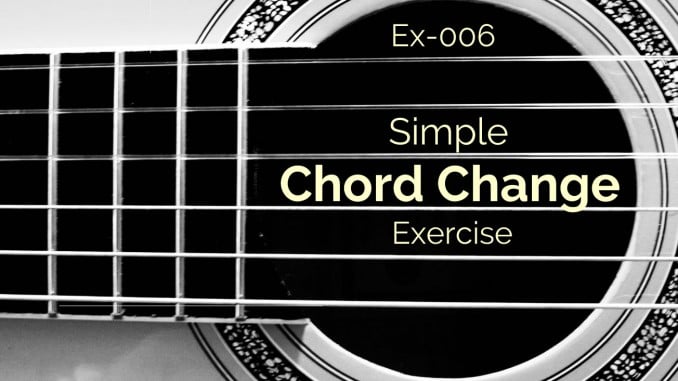 This is a simple exercise that you can do for about 1 minute. It can easily be fit into anyone's practice or warmup schedule.  You will need a metronome and two chords that will challenge you a little.
How to Practice Chord Changes
Choose two chords to practice.
Set your metronome to your target number of beats per minute (bpm).  I recommend starting at 60 bpm, which will click every second.  If that is too fast, slow it down to 40bpm.
On a click, play the first chord
On the next click, play the second chord
Repeat steps 3 and 4 for one minute
I know this one isn't complicated, but it works.  One minute a day with challenging chord changes can help you a lot.
Tips
If you read my article on practicing, you'll know that you should choose a chord changes and tempo that challenges you without being too challenging.
If you can't keep up, slow it down by 20bpm.  If you still can't keep up, practice playing the same chord but re-gripping it every time.
If you mastered it at this tempo, speed it up by 20bpm during your next practice session.
I don't recommend increasing speed for the same chord change in the same day.  You will train your body better by waiting a day to let the success sink in over night.  Feel free to try a different chord change though.
In general, I prefer learning new changes to practicing beyond 120bpm.
If you're not striking all the chord notes properly every time, you haven't mastered the change at that tempo.