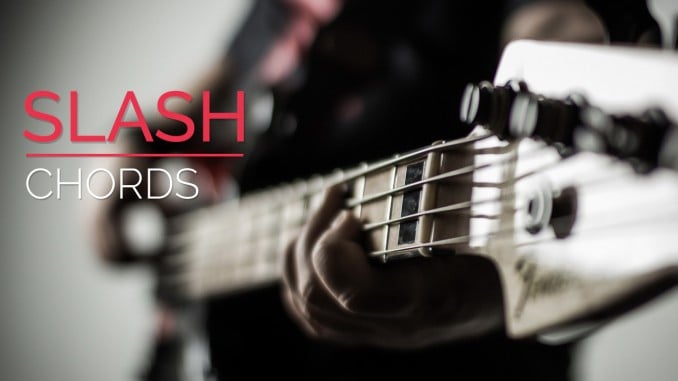 Learn everything you need to know about slash chords in this quick and easy lesson.
What are Slash Chords
Slash chords are normal chords that specify a bass note other than the root.  Many chords have a bass note other than the root, but the bass is only specified when it matters.  The note may or may not be a chord tone.
These chords are common in many genres, but I find them a lot in solo guitar arrangements.  This makes sense because you are the only instrument.  When you play with a group, the bass player will often play the bass note, which frees you from the obligation in most cases.
When playing slash chords, remember that you should play the bass note unless it is impractical or your bass player is playing the note instead.
How They are Notated and Pronounced
Slash chords are notated with a chord, slash, and a bass note.  For example, G/B is pronounced G over B.  G major is the chord, B is the bass note.
Examples
Below are three simple examples and a similar chord voicing.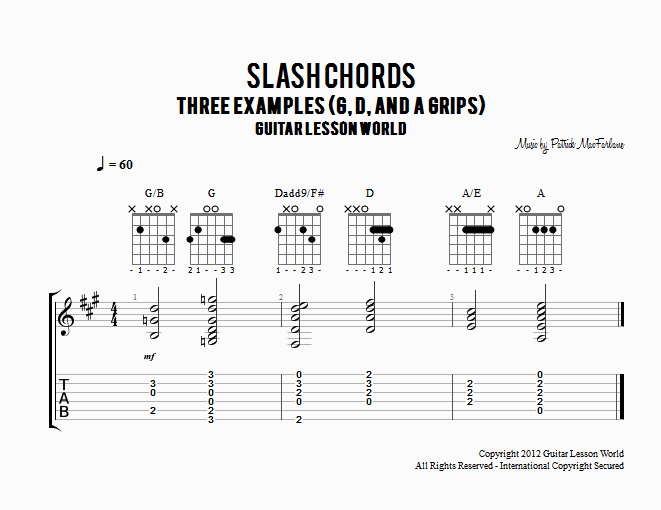 Conclusion
This may be my smallest lesson on the whole site, but it explains a common question about how to use these chords.  When you're writing music and want to specify the bass note of a chord, be sure to use slash chord notation!