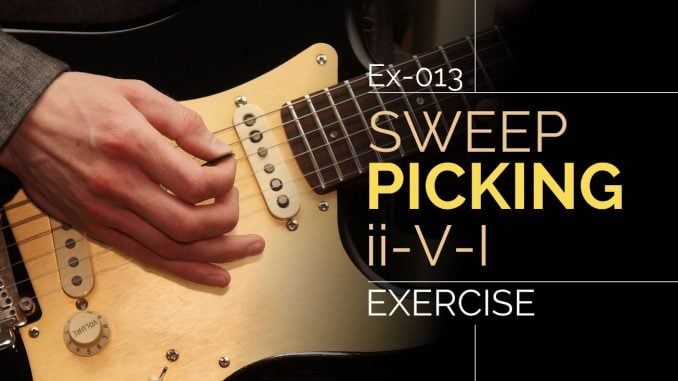 Learn to sweep pick a ii-V-I progression in this exercise using the tritone substitution to play faster.
This exercise uses three chords based on the A form (rooted on the 5th string).  In the key of C, start with Cmaj7.  Play it for two bars.  Then play the Dm7 (2 frets up).  Last, play the tritone substitution (D♭7) for the V chord, which is normally G7.
The tritone substitution works here because it moves down one fret from the ii or up one from the I.  This allows you to use the same chord form with minimal movement!  In other words, it helps you play fast and work on  your technique.
Simple Tritone Substitution Theory
Tritone substitutions work because the color tones (the 3rd and 7th) are the same as the chord you substitute for them.  Additionally, the root and fifth are a semitone from the root and fifth of both the I and ii chord.
I listed the chord tones below.  Notice how the 3rd and 7th for the tritone substitution are the same as the normal V chord.  In this case, we substitute D♭7 for G7.  Let's look at the chord tones.
Normal V chord – G7 Chord Tones: G-B-D-F
Tritone Substitution – D♭7 Chord Tones: D♭-F-A♭-B
I chord – Cmaj7: C-E-G-B
ii chord – Dm7: D-F-A-C
Exercise
The following example was written, notated, and played by the talented James Coulthard.  The hammer-ons and pull-offs make this a little harder, but maintain the triplet feel.  Don't forget to mute each note after you play it.  Usually, this is done by "rolling" your fretting hand as you play.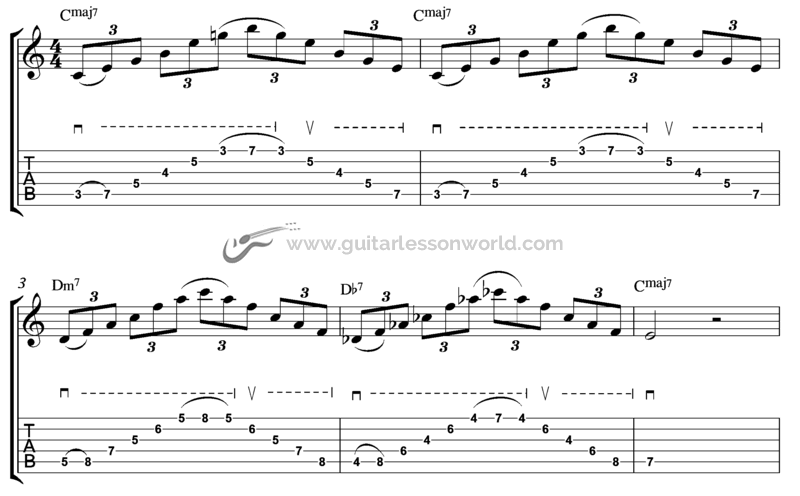 Subscribe for Free Content, Tips, and More!
3 Reasons to Subscribe to the GLW Newsletter:
Free Stuff! You'll get free content that is exclusive to my newsletter subscribers!
Content tailored to you. Over time, I'll get to learn more about you and deliver content that motivates you to learn, play and be inspired!
No spam. Just real content that's meant to make a difference in your playing
Enter your name and email, and you're on your way!
Hello again! You're already subscribed to the GLW newsletter. Thank you for being a part of the GLW community. If you have a question, just send an email using my contact page. I'd be happy to help!