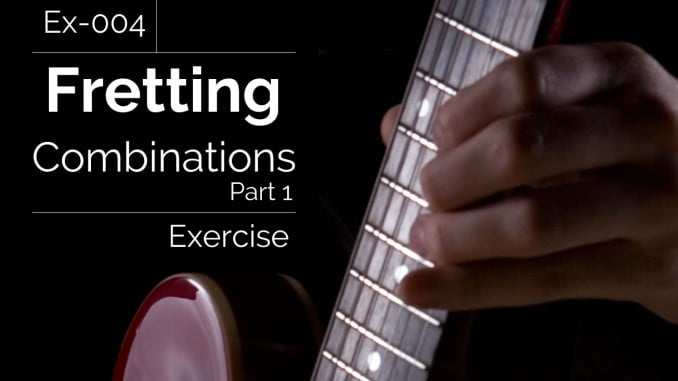 The goal of this exercise is to improve the speed of your fingers when playing on a single string in a given fretboard position. The example below shows the 6th string in 1st position.
Place your fingers in first position on the 6th string with your fingers on frets 1- 4.
Play the fingerings below (1=index finger, 2=middle finger, etc.).
Increase the challenge by playing this backwards and playing it on different strings.
Fretting

Combinations
1. 1-2-3-4
2. 1-2-4-3
3. 1-3-2-4
4. 1-3-4-2
5. 1-4-2-3
6. 1-4-3-2
7. 2-1-3-4
8. 2-1-4-3
9. 2-3-1-4
10. 2-3-4-1
11. 2-4-1-3
12. 2-4-3-1
13. 3-1-2-4
14. 3-1-4-2
15. 3-2-1-4
16. 3-2-4-1
17. 3-4-1-2
18. 3-4-2-1
19. 4-1-2-3
20. 4-1-3-2
21. 4-2-1-3
22. 4-2-3-1
23. 4-3-1-2
24. 4-3-2-1
Fretting Combinations

– First Position, Sixth String