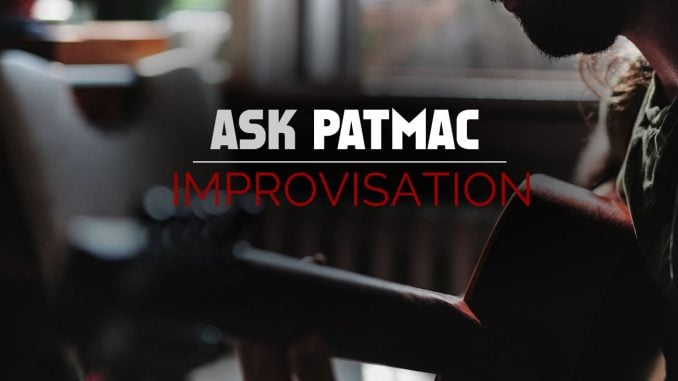 Question:
I will paraphrase a question that I received from Alan Mullins.
In a I-IV-V progression, do I always have to play a C scale over a C chord?
Answer:
The short answer is no, you do not have to play a scale rooted on the same note as the chord. Let me review the different ways to play over a I-IV-V.
Play within the Key
If you know the key of a song, and the progression plays chords within that key, you can simply play the major scale for that key.
Changing Scales with the Chord
You can choose to play a scale appropriate for the chord being played.  In the case of major chords, you can play the major scale.  It is not, however, the only choice.  Modes and pentatonic scales are commonly used.  These can be useful for chords outside the scale.
The chords and associated scales of a I-IV-V in the key of C are:
I: C major – C major scale
IV: F major – F major scale
V: G major – G major scale
The I-IV-V is used in the 12 bar blues, where you may see dominant 7 chords.  These chords are not in a diatonic key, so you'll want to treat them differently.  Often, pentatonic scales are used because they omit the notes that clash.  The mixolydian mode is also commonly played over dominant chords.
Play Chord Tones Over the Chord
You can also play chord tones over the chord.  This will simplify your approach by minimizing the number of notes to play.  I recommend playing the chord tones when you want to resolve the sound and the notes in-between when you want to add tension to your sound.  Usually the tense notes set up the chord tones to resolve.
Conclusion
There are many options when playing over a I-IV-V progression.  I provided a few options, but I recommend reading more about improvisation techniques in my lesson on modes.
~Patmac
Subscribe for Free Content, Tips, and More!
3 Reasons to Subscribe to the GLW Newsletter:
Free Stuff! You'll get free content that is exclusive to my newsletter subscribers!
Content tailored to you. Over time, I'll get to learn more about you and deliver content that motivates you to learn, play and be inspired!
No spam. Just real content that's meant to make a difference in your playing
Enter your name and email, and you're on your way!
Hello again! You're already subscribed to the GLW newsletter. Thank you for being a part of the GLW community. If you have a question, just send an email using my contact page. I'd be happy to help!